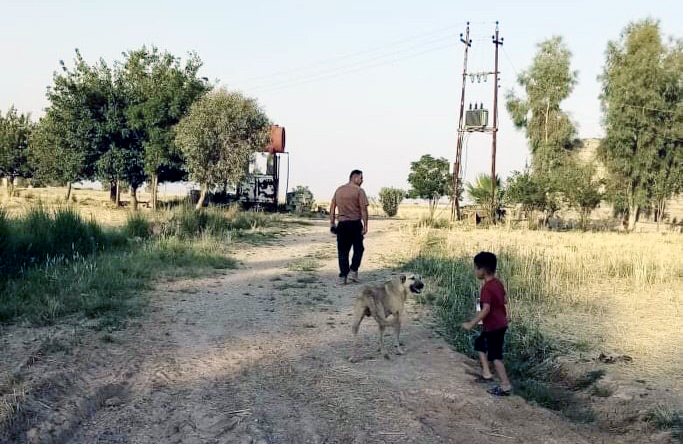 The threat of COVID-19 brings back bitter memories from several years back for Sa'd Abbas and his family: once more they will have to abandon their ancestral home and their agricultural fields.
After years of displacement, Sa'd and his brothers had gone back to their village and planted crops and vegetables, hoping to be able to work on them for at least a few hours in day-time.
"Because of the Coronavirus and the curfew [to prevent its spread], we are prevented to go to our village at day-time. That's why most of our products this year have gone to waste."
The Coronavirus was for us the equivalent to the threats from ISIS
"The Coronavirus was for us the equivalent to the threats from ISIS. Once more we feel miserable."
Sa'd and his family hail from the Kaka'i village Walad in Daquq district (44 km south of Kirkuk City). Their village bore the brunt of ISIS attacks in 2014, and it had become a warzone and a hotbed for ISIS activities. That's why the residents abandoned it.
"At the beginning, we had to protect ourselves until some forces arrived in the area and things settled a bit," said Sa'd, who is the village's commissioner.
KRG's Peshmerga forces were stationed at the Kaka'i areas in Daquq mid-2014 until October 2017, when forces under the command of Government in Baghdad forced the Peshmerga out due to the dispute caused by the independence referendum held by KRG.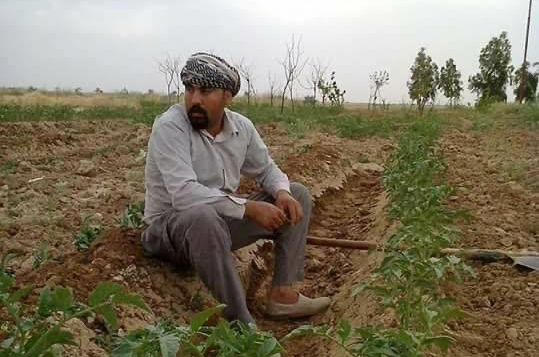 Sa'd said: "After the Peshmerga retreated and a security vacuum was created, ISIS attacked and we withstood them for nearly 30 minutes. In that battle, my brother Jangiz, who was a veterinary student, was martyred. Another brother of mine was injured."
The increase in attacks and deterioration of security are forcing residents into displacement again. That's the reason Sa'ds family moved from Walad village to Kirkuk City.
Sa'd said: "We preserved our honour and dignity with the blood of our brothers and others relatives, without anyone coming to our rescue. After several incidents, we felt that the threats are increasing and that we must leave."
Of the total of 15 Kaka'i villages in Daquq district, five are completely desolated and three others are about to be.
After being displaced from their homes due to attacks by ISIS militants at night-time, the Kaka'i residents of the Waladi village, whose livelihood consists of farming and raising cattle, would go back to take care of their plants at day-time.
28-year-old Waladi resident Safa Abas is one of those who got wounded by ISIS. She has been trying to keep herself busy with farming in an attempt to erase some of the bad memories, until the COVID-19 outbreak deprived them of the ability to work their lands.
We are stuck at home, and all that is left to us is pain and depression
"On top of everything, there is the Coronavirus and curfews. We are stuck at home, and all that is left to us is pain and depression. We are unable to do this year's harvest, all of our summer products go to waste," said Safa.
Safa continued on the effects of the COVID-19: "We've suffered a lot: one of my brothers died in my arms. Farming is our only source of livelihood, but the Coronavirus prevent us from doing that too."
Measures taken against the spread of the COVID-19 virus by the government have immensely harmed the Kaka'is. From decrease of security (due to deployment of police personnel to implement those measures), to the crippling of agriculture and economy.
In Kirkuk Province, a total surface of 100000 hectares of land has been planted with summer produce, according to a statistic by Kirkuk's Agriculture Department.
Another farmer from the village, 34-year-old Dashti Walad, said: "I keep waiting for the day we can go back to our village, because all my childhood memories are made there."
Dashti still had some livestock after he had to leave the village. But during the outbreak it was difficult to go back and forth, and therefore he sold them at low prices. "The Coronavirus brought us a lot of loss," he said.
In an attempt to halt the Coronavirus outbreak, the central government in Baghdad and KRG have both banned travelling between all provinces since March.
Sa'd and his brothers don't want to lose their livelihood after being displaced. They want their safety secured and have the ability to move back to their village.