Instead of warm handshakes and flower bouquets, Adnan gets a few impersonal "likes" on social media for his calligraphy art.
The Coronavirus upsets the art world of Adnan Muhammad: no more art galleries and exhibitions; no more travelling around between cities and towns to showcase his art skills.
"Due to the Coronavirus, we are unable to go to art galleries, we don't see each other, and our paintings and other works are not exhibited," Adnan told KirkukNow.
Calligraphy is the sole occupation and source of income for Adnan Kaka'i and his family.
The COVID-19 outbreak in March has caused significant financial difficulties for many Kaka'is in Kirkuk's Daquq district, among them Adnan.
It is the first time that Adnan experiences such a long-term home confinement. Most of his works have been showcased at galleries in Kirkuk and all over Iraq. His art has also helped him broaden his social network.
The measures the authorities have taken to slow down the outbreak of COVID-19, include the closure of art galleries, all sorts of gatherings, curfews and travel restrictions.
"It's a very unpleasant situation; I am compelled to send my work to exhibition organizers through the internet. And what exhibition? Just something on the internet and social media, instead of a gallery where people can gather."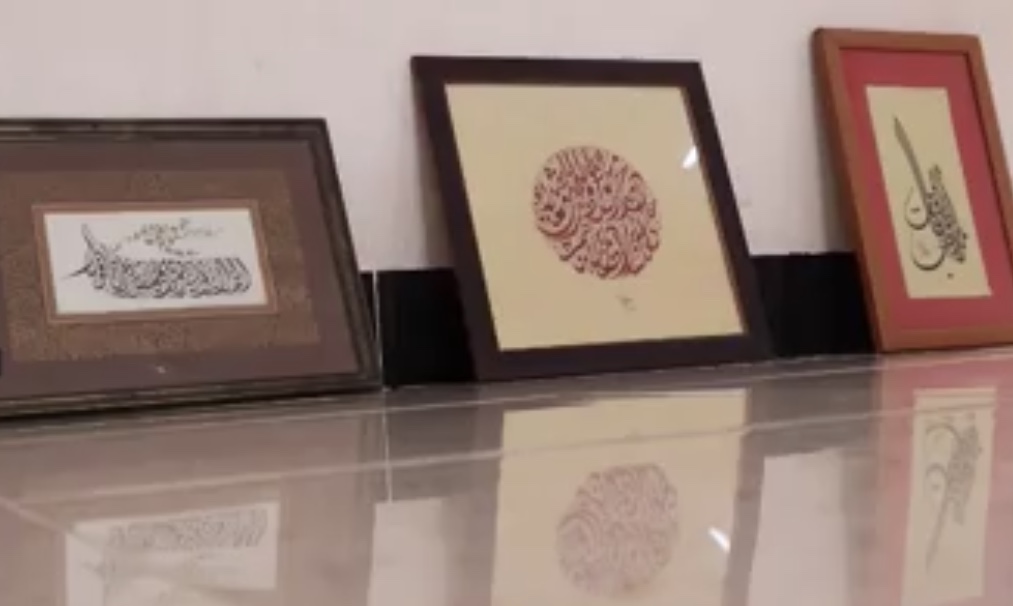 Adnan has been making calligraphy half of his life, starting in early 2000, and still trains to refine his art.
He has travelled abroad, including to Turkey, Syria, UAE and Morocco, and has won numerous awards, among them the Khalil Zahawi Award in 2009. He has obtained an honorary doctorate from the Egyptian Academy for Learning and Development.
These conditions have also affected my mental well-being
"These conditions have also affected my mental well-being, and have caused me significant financial damage, since my livelihood is impeded."
Adnan has a calligraphy shop, but due to the preventive measures, he hasn't been able to keep it open.
During the home confinement, Adnan also helped his wife and two children to develop their skills.
"Staying home had the training benefit. I took advantage of the opportunity using the time to write calligraphy, as calligraphy requires a lot of time for training," added Adnan.
Adnan fled to Iran with his family after the Kurdish uprising in 1991. He stayed there for several years and learned the Persian language and Persian calligraphy.
Calligraphy has almost become an occupation for his whole family. His wife and son are fond of it, but his daughter prefers painting.
Huma Gha'ib (39), Adnan's wife, told KirkukNow: "The lockdown was an opportunity for me to get more acquainted with the art of calligraphy. My husband was a great support in doing this."
Our home has become an art school, Adnan being the teacher and us the students
"Our home has become an art school, Adnan being the teacher and us the students. My son is busy with calligraphy and my daughter aspires to become a painter," added Huma.
The family is looking forward to the end of the pandemic so that they can showcase their works at art galleries.