Kameran Kemal, 25, could not stand still looking at the devastation of Shingal and displacement of its people, he tried to light a candle amid the darkness by opening Orshina Bookstore to sell and borrow books to young people and urge them to read and focus on cultural issues.
The idea was warmly welcomed by young returnees to Shingal predominantly Ezidi area, though it was not an easy task, as the founder says, to "challenge war and sectarianism by writing and culture."
Prior to 2014, Kameran's family were leading a difficult life so he was obliged to quit post graduation from high school and had to find something to do out of Shingal to make his family living, he told KirkukNow.
He went to Shaqlawa in Erbil Northern Province willing to make money for university but his plans evaporated when Daesh stormed Shingal in August 2014 forcing his family to flee murder and abduction of the religious minority by the extremist Jihaddists.
Kameran leaves Shaqlawa to join his family in a structure of a house in Erbil and later to Persvi camp for Ezidi Internally Displaced People IDP up to 2018 then he started commuting between Shingal and camp till they left camp forever last year.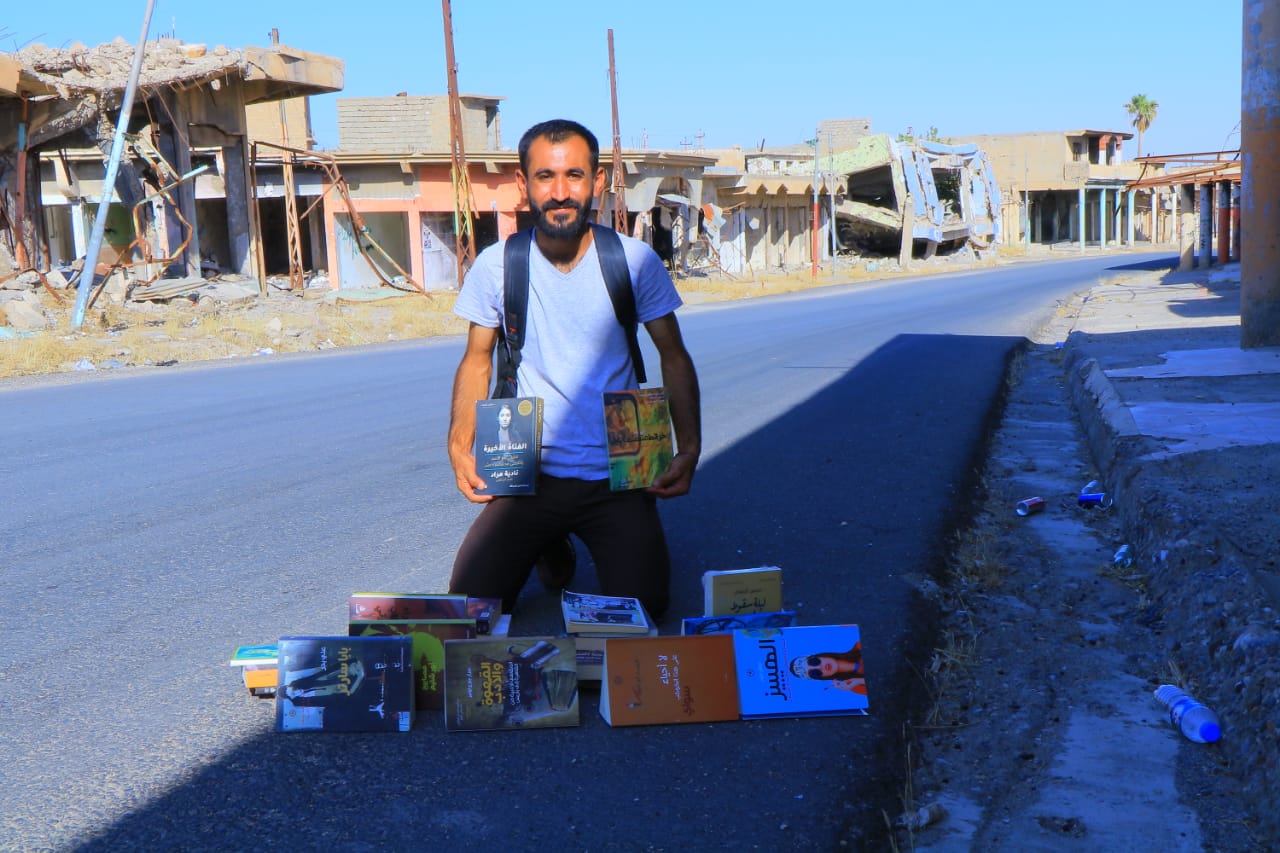 Kameran turned into a book worm in the years of displacement at camp. "I was surfing books most of the days, read almost 400 books, all electronic copies as I lost my 100-book library in Shingal."
As camp residents were complaining about life as IDPs, Kameran was deeply reading as a bookworm. "I have launched an initiative to collect electronic books and managed to get thousands. I also was posting summaries for the books on my personal Facebook account."
The readers were gradually interacting with e books on social platforms. "Later I proposed an initiative to collect books and borrow it to readers especially the IDPs for free.
After retaking Mosul by Iraqi forces, Kameran had the opportunity to return to his home town, at least for few days in the first trip. "I went back to Shingal yet our house was in a terribly miserable situation."
"There were just concrete frame instead of our homes and still up to the present. I wish our house would have been fully destructed than to see it without doors and windows. It is stolen abstracted of everything."
Kameran's house was in Barbosh slum, 75% destructed by Daesh yet not renovated up today. The alternative was to move to Sinuny sub-district of Shingal district which was stable where he turned a caravan into a temporary bookstore.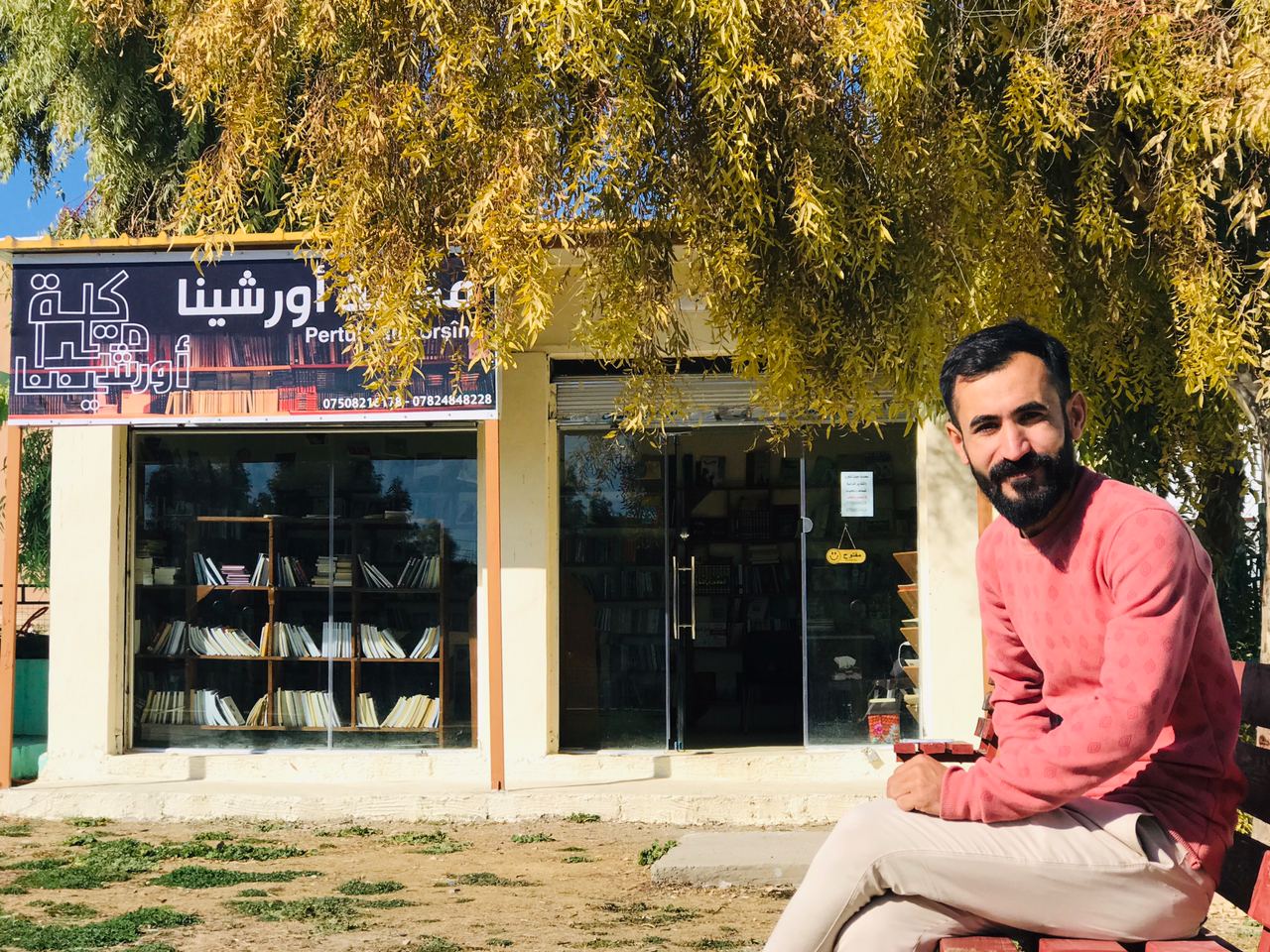 Kameran addressed many civil society organizations supporting Shingal to support his project to promote reading among the young Yazidis to heal their wounds and the region.
"About 40 NGOs and organizations were contacted to build a simple library yet despite their musical slogans none supported me."
His network of colleagues on social platforms in Baghdad and the south of Iraq urged him to contribute to "Spotlight Iraq" by Goethe German Institute where he applied for the "Library" project and convinced them to allocate a $35,000 budget for him.
Kameran went back to Shingal and started the process of building the library. Friends of him helped him to get a 24 square meter plot of land from Shingal municipality in a park.
His colleagues led a campaign for donations of money and books which successfully earned 5,000 Arabic, English and Kurdish titles.
"The project has turned cultural than businesswise. We borrow books mostly free and sell as well. Now we have customers from readers, educated people of Shingal, from all components."
"Shingal pavement" festival in February 2021.
"The idea was not material or business, mainly a challenge of war and sectarianism by reading and writing," he adds.
Kameran initiatives covered "Fraternity Garden festival" in September 2020 and "Shingal Sidewalk Festival" in 2021 by exhibiting books on the sidewalks. He suggested building "Cultural sidewalk" in Shingal.
"NGOs claim supporting life in afflicted Shingal never gave a hand yet."
This artical can be viewed in Arabic, Kurdish or Turkish via KirkukNow