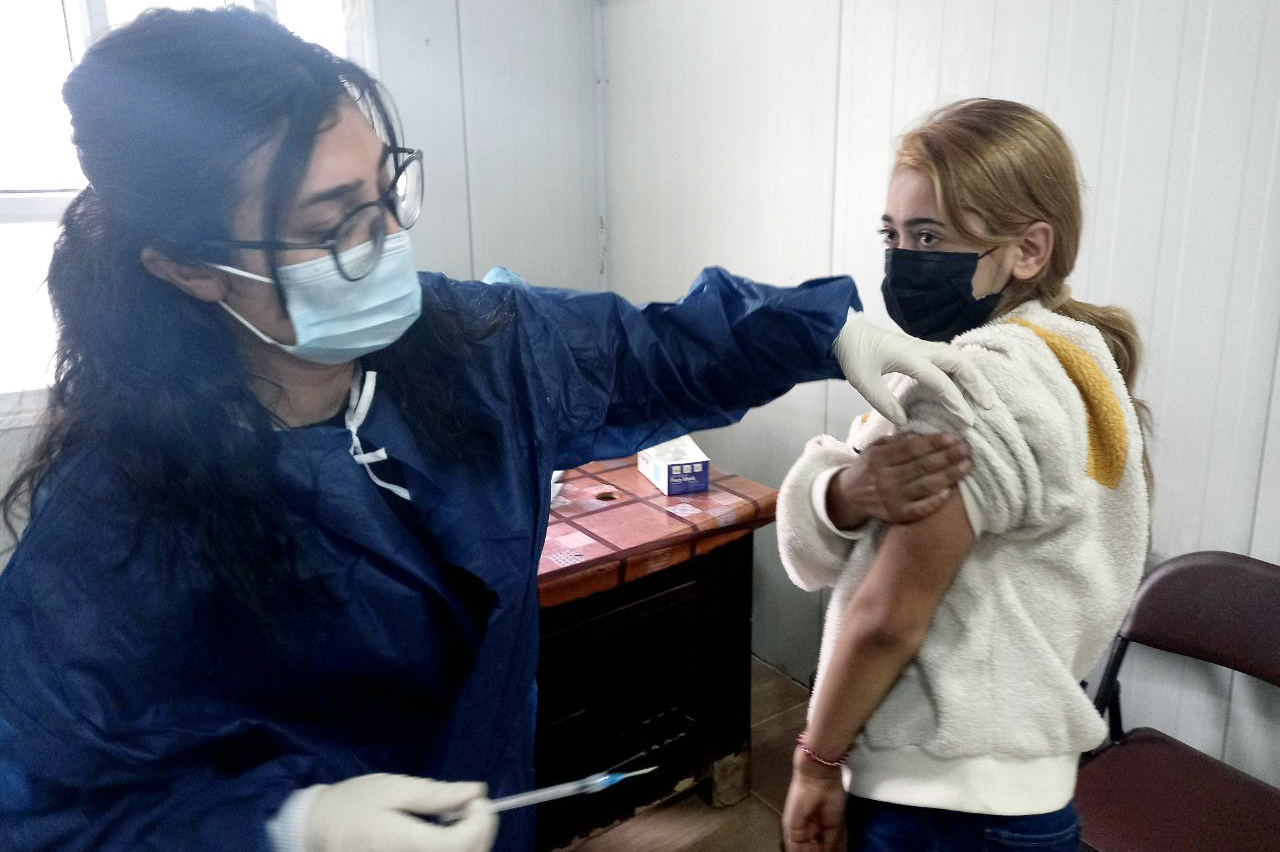 Internally displaced persons (IDPs) in the semi-autonomous Iraqi Kurdistan Region who have lost proof of their identification when they fled their home towns in fear of the Islamic State of Iraq and Syria (ISIS) from 2014 to 2017, are not being vaccinated for Covid-19 unless they get at least a proof of residence by the security forces, then they are vaccinated yet they are not awarded vaccine certificates.
Those who escaped (ISIS) captivity have to report their story to the security services and how they lost their identities. Upon this and with the help of their families and relatives, they will obtain a residence card issued by the Asayish (Kurdish security) showing their full name, age and address of camp as most of them reunite with their families who are still living under tents in camps for (IDPs) in Duhok Northern province.
The (IDPs) who lost all their official documents and can't prove their residence, are not entitled to get Covid-19 vaccines as the database requires at least one of the official documents of National Identity, Personal Card, Certificate of Iraqi nationality or Iraqi passport.
Local health outlets administering Covid-19 vaccines were not able to register and vaccinate those (IDPs) who do not possess proof as they can't upload their information into the national database of the Iraqi Ministry of Health unless at least they have one proof.
"Any one [who] wishes to receive [Covid] vaccine, needs official proof such as ID or nationality certificate or else we can not vaccinate him so we refer them to the directorate general of health [of Duhok Northern Province]" said Aziza Khalil, a nurse in Kabratw (IDP) camp vaccination outlet.
We have not encountered any cases of IDPs holding no ID. So far, we have administered 6,000 doses and all were holding IDs.

Aziza Khalil.
Those (IDPs) who lost all official documents and currently possess only a residence card, are provided with a letter by the directorate general of health addressed to the vaccination outlet where they want to get the vaccine yet they get no vaccination certificate, unless they show new official documents and provide it to the vaccination outlet in a later stage.
I have no official identity so cannot be vaccinated.

Rozha Amin.
Hamza Mohammed, media officer at the Duhok health directorate, said IDPs who lost identifications can be vaccinated using residence cards "without any problem."
The residence card is given to locals including IDPs following security check up by security services upon order of the mayor of the town.
Thousands of Iraqis fled ISIS atrocities and became homeless, displaced to parts of Iraq for years, and lost their IDs and official proof of identification throughout their displacement. KirkukNow could not obtain accurate figures about the number of IDPs in the Kurdistan region of Iraq who lost their identification cards, yet Human Rights Watch (HRW) said in 2019 that at least 156,000 IDPs lost their official documents.
According to the statistics of the Joint Crisis Coordination Center of the Kurdistan Regional Governemnt (KRG) Ministry of Interior, there are more than 664,000 IDPs in the Kurdistan Region, 280,000 of whom them are living under tents in 26 camps mainly in Duhok, in addition to 261,000 refugees.
About 30% of the (IDPs) are Ezidis who escaped ISIS atrocities that mounted to genocide back in 2014 and have not returned home due to ongoing and large reconstruction efforts, while Christians make up 7%, beside Sunni Muslim Arabs, Turkmens, Shabaks and Armenians.
Almost 480,000 locals in Duhok have received Covid vaccine jabs out of a population of 1.6 million people with 145,000 infections recorded, that resulted in 1,834 deaths since the start of the pandemic.
Iraq joined the jab race back in February 2021 when it received 50,000 doses of Sinopharm vaccines in a donation from China. Later, Iraq received Pfizer-BionTech and AstraZeneca jabs yet the highest demand is for the Pfizer vaccine.
"I have recently joined back my family and have no official identity so can't vaccinate," said Rozha Amin, an IDP and a survivor of ISIS atrocities.
Amin is living in the Khanky IDP camp in the Summel district of Duhok since mid-February. He is working hard to reclaim his IDs from local authorities.
"Once new IDs issued for me, I will certainly take the vaccine but now I cannot because I have no ID," Amin added.
Khanky camp is home to 14,000 IDPs, almost 2,600 families, mainly Ezidis.
Out of a half million population, over 350,000 Ezidis fled Shingal to Kurdistan region and Shingal mountain. About 100,000 migrated to Europe, USA, Canada and Australia and over 100,000 are still living under tents in tens of camps for (IDPs) in the adjacent Kurdish region.
Abdulhamid Dawud, director of Kabartw camp vaccination outlet said IDPs with no ID can resort to the security services or directorate of health to get a letter of support for vaccination and "in turn we vaccinate them."
We support ISIS survivors to get back IDs and official identifications.

Abdulhamid Dawud.
Vaccinated people are officially registered following submission of an official ID in records and in an online database by the ministry of health.
"We have seen few (IDPs) with any ID, almost 10 cases," said Duhok health media officer.
Since 2017, the Iraqi government in cooperation with the United Nations High Commissioner for Refugees (UNHCR) has conducted a campaign to issue IDs for IDPs who lost documents following ISIS attacks.
Mazin Salim, 18, is a survivor of ISIS who had no identity document until last year. Now that he received his identification, Salim wants to get an international certificate of vaccination which requires having a passport.
I have not been vaccinated yet because I want to get the international certificate that I might need in case of travelling abroad since we might be invited by NGOs or need to travel abroad for medical treatment.

Mazin Salim.
Salim resides in the Bersiv 1 camp in Zakho the district of Duhok, which is home to 2,500 families, total 12,000 IDPs. He was abducted in 2014 when he was only 10-years-old from the village of Bashuk, in the Khanasur complex of Shingal district, home to the Ezidi community.
He was rescued back in 2019. But his father is still missing.
"I call upon all to help me get a passport and an international vaccination card," he pleaded.
Per regulations of the Iraqi Ministry of Health, the vaccinated have to be registered in the health database and submit a passport in order to get a vaccination certificate in English.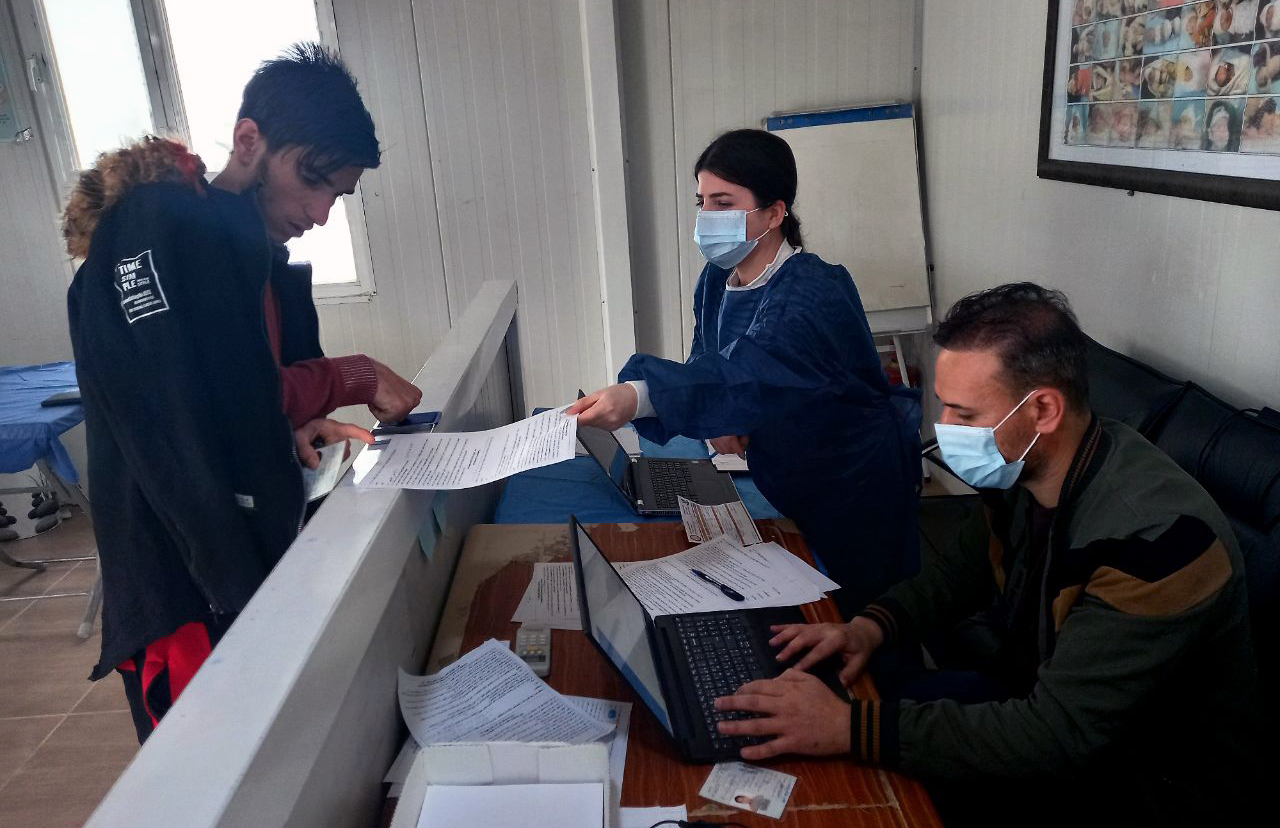 Darwesh Chuki Jardo, director of Tulay, an NGO providing IDs to Ezidi survivors of ISIS, told KirkukNow they offer support for survivors to obtain lost official identifications cards. "Anyone faces difficulties in vaccination due to lack of documentation, he can contact us to sort it out," he said.
Jardo added that currently only those who recently returned back to their families from Syria have no identification cards. "We launch campaigns periodically. Four months ago, we visited the Khanky IDP camp and a team of nationality office accompanied us to issue new IDs for survivors recently untied with families," he said.
The main requirement for international vaccination certificate is passport.

Masoud Hassan.
Masoud Hassan, an IT officer of the Duhok Health Directorate, affirmed that only 15 individual cases had no identification and "they were vaccinated upon their residence card but not given any certificate. Once they presented documents, they obtained the certificate according to the digital code."
He confirmed that no international vaccination card can be issued unless passport is submitted by the vaccinated.
This article was originally published on KirkukNow. This article can be viewed in Arabic, Kurdish or Turkish via KirkukNow.